Rethink
The Rethink Effect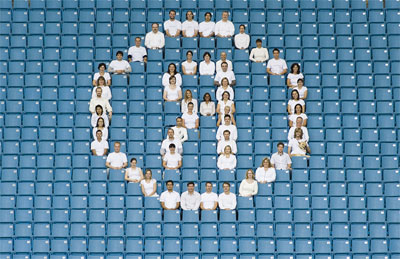 The story of how junk and rats lead to Cannes and strategy Gold
Naturally, it's Rethink. They've been nipping at the crown for a while now since walking away with Honourable Mention nods in 2003 and 2004 and Silver last year.
Remarkably, it's been only seven years since Chris Staples, Tom Shepansky and Ian Grais started the Vancouver-based agency. Today, it's undoubtedly one of the marquee agencies in the country – garnering a reputation for injecting a delightful dose of quirkiness into Canadian creative that delivers laughs, results and some serious hardware.
Case in point, this year, Rethink took the Gold AOY spot by coming up with metrosexuals for BC Lions, a know-it-all employee for Future Shop, gabby teens for Solo Mobile, an offbeat virtual bank teller for Coast Capital Savings, and of course, rats for 1-800-GOT-JUNK?, easy inspiration for our winsome cover.
But despite its growing list of noteworthy clients (its work for new clients Sobeys and Sirius Satellite Radio, recently launched), an increase in staff by 10 to 60, including the hire of creatives Martin Rivard and Nicolas Quintal in September, and increased revenues of 18%, the gutsy sense of entrepreneurialism and ingenuity that birthed the agency when Chris Staples boldly left a sparkling career at DDB has remained.
As proof, the story of how Rethink met 1-800-GOT-JUNK?
It began late last year. "We'd put the word out that we were thinking about advertising," recalls Pete Burgeson, director of marketing of the Vancouver-based junk removal company, which was rebranded under its current name in 1998.
Its execs had talked to local divisions of TBWA\ and Saatchi & Saatchi with little success. "[Those agencies] came back and said: 'It's going to run you a quarter of a million bucks to run these ads.' Looking at our budget, we really didn't have it. Until we met with Rethink, and they said: 'We believe in you guys. We like you. We want to be associated with you. Let's work together to make something neat here.'"
Turns out, selecting Rethink was the easy part.
"They said: 'So if we make you this really cool ad, where you gonna run it?' And we said: 'Nowhere. We don't have the money,'" says Burgeson. Sure, the company had been featured on Oprah, and in The New York Times and The Wall Street Journal, but with 280 franchises in North America, there was hardly the money for substantial media buys in all the markets nor could they ensure heavy rotation.
"After they picked their jaws up, they said: 'Okay, so what we're going to do then is make you something really funky. The distribution will not be so much paid airtime as it'll get passed around, person to person.'"
About half a dozen options, all funny, were presented to the company's execs, including founder/CEO Brian Scudamore. But the work for Rat Advertising Trial, where little white rats wearing blue vests are tossed out of a truck to seek out junk, well, that was so offbeat, so bizarre they knew they had a word-of-mouth winner. So much so, they asked the team to pitch to about a dozen franchise partners that same day. "It was a tough position to put them in, but they packed their stuff up, drove across town and pitched it to these guys."
Unanimous, it wasn't, but of the 13 franchise partners at the meeting, only three voted no. "We expected it to be polarizing," says Burgeson.
The result? A spot on TBS's World's Funniest Commercials, being shortlisted for a Cannes Lion and at press time being shortlisted for an Ad & Design Club of Canada Award. "Really, just think, a glorified garbage company from Canada got on the [Cannes shortlist] with these enormous global companies. It was shocking." So, how do they plan to top it? "We're experimenting with an élite team of kittens," he jokes.
And for Rethink itself, Burgeson has nothing but accolades. "I can't say enough good things about those guys. Being young and in an odd category of business, there are not a whole lot of companies that would jump at a chance to work with a junk removal company. But they took a chance on us and I think we returned the favour by taking a chance with the zany ad they brought forward. It worked out amazingly."