Lowe Roche
The Return of Roche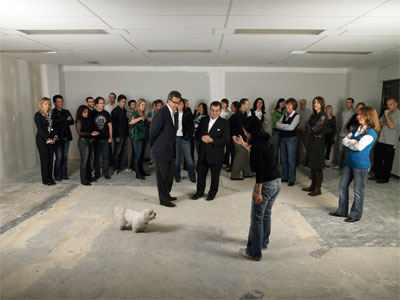 After a trying few years, the creative powerhouse is back with Bronze
Geoffrey Roche must excel in chaos. Back in 1998, when Lowe Roche was known as Roche Macaulay, the agency managed to rack up its third Agency of the Year title – a record at the time – in spite of mass client and staff defection following the merger with Lowe Worldwide.
The past 12 months have been similarly turbulent for the founder/CCO of the Toronto-based agency: President/CEO Brett Marchand left the agency after three years in October 2005 to join Cossette Communication-Marketing; early in the new year, the agency lost the coveted Virgin Mobile account; and a few months later, in August, Capital One, for which it had done such memorable work, also parted ways.
But as has been its curious pattern, amid all the upheaval, the agency has produced some of its best work. And this year, securing Bronze in our AOY competition is further proof of the industry rumblings: Roche is back.
"It's about the best time in seven years for the agency," Roche himself admits. He points to a recent coup, the hire of Scot Keith just last month, as GM – he was previously group account director at DDB and former boss Frank Palmer's pick as "Generation Next" in our September issue – as a highlight. (Todd Stanley, who replaced Marchand as president has left for personal reasons.) As well, new client wins include Nokia and the Toronto Star, says Roche, and a handful of other pitches are also in the works. He also raves about the work that Christina Yu, who joined as VP/CD in 2005 and many tout as one of the hottest young talents in the industry, has produced for the shop since her arrival. "Christina is just stunning," Roche says. "She's done such great work over the past year. She really has, I would argue, put the agency back on the map creatively."
Coincidentally – or not – the five campaigns submitted in this year's competition all received the Yu touch. They include creative for beer brand Stella Artois, Capital One's "Hands in Your Pocket," the Toronto Zoo's "Jealous Animals," o.b's "mighty.small" and Mackenzie Financial's "Burn Rate." It's a mixed bag of work that married smart media with creative executions, noted one AOY judge – and that not only broke through and had impressive results, but generated plenty of additional momentum with the PR that followed. It's a result of the close working relationship between Yu, VP strategic planning Janet McNally and Joy Sanguedolce, connection planner, who was hired in September 2005, says Roche.
Despite what may be occurring within the agency, clients credit Roche with ensuring a level of consistency – and never compromising on the creative – no matter what the budget. "Lowe is a great partner," says Shanna Young, executive director of the Toronto Zoo's marketing and communications division, which has been a client for five years. She says the agency truly understands the needs, and budget challenges of the zoo, but still manages to create work that works.
"When Lowe Roche presented it, we just instantly loved it," she says of the "Jealous Animals" campaign, which was driven by PR and online tactics, and generated a 7% increase in attendance over last year, despite a rainier-than-average fall and not having a visiting attraction (see page 47). "They understand that our budget is tight, but they're always trying to find ways to maximize the meager dollars we have to spend."
John Dale, EVP marketing, of Mackenzie Financial, which has been with the agency for five years, says that despite inevitable turnover, Roche has a knack for maintaining a sense of consistency. "What I like best in the relationship, and I think it is a strength in Roche, is continuity in senior and creative talent," he says.
That, and some killer survival instincts.